How to Reach Taj Mahal or How to get to the Taj Mahal?
The Taj Mahal, an exemplification of affection and sentiment, is situated in the city of Agra that lies around 204 km toward the south of Delhi and take 3 hour to getting to Taj Mahal. An UNESCO World Heritage Site and one of the Seven Wonders of the World, the landmark draws in swarms of homegrown and global vacationers from everywhere the world, lasting through the year.
Also you like to read How many days should you stay in Agra to see all the sights?
"how to reach taj mahal? Train, Bus or a Private Car with English Speaking Driver"
How to travel to Taj Mahal from Delhi
Such is the attractive allure and charming substance of the landmark that guests can never have enough of it ever and would need to visit it consistently. In the event that you have decided to be captivated by the greatness of this compositional brightness, and are arranging an excursion to investigate the magnificence of this stunning landmark, then, at that point, the absolute first inquiry that would ring a bell is How to get to the Taj Mahal! We have dedicated this segment to talk about different methods of venturing out to the Taj Mahal in India.
How to travel to Taj Mahal, Agra India
There are 3 mode of travel to Agra Taj Mahal are by Air, By Bus (Public Transport- Sharing Basis), By Train and by Private Car with English Speaking driver. The best way to get to Taj Mahal, Agra is private car via yamuna Expressway road and The best way to visit Taj Mahal with Local Taj Mahal Tour Guide in early morning.

By Air
The fastest way to getting to Taj Mahal, Agra is by air. The city of Taj Mahal, Agra, has its own airport that is around 7 km from the city center. Indian Airlines operates flights to Agra on a daily basis. and getting to Taj Mahal from Airport is just 20 minute by Car. Many of Car rental company available at the Agra Airport.
"planning a trip to explore the beauty of this splendid monument, then the very first question that would come to your mind in how to reach the Taj Mahal."
By Rail – How to reach Taj Mahal from Agra Cantt?
There is a good network of trains connecting Agra with the rest of the country. Apart from the main railway station of Agra Cantonment, there are other two stations also, that of Raja-ki-Mandi and Agra Fort. The main trains connecting Agra with Delhi are Palace on Wheels, Shatabdi, Rajdhani, Gatiman Express and Taj Express. All Major Train arrives at agra cantonment . Agra cantonment to Taj Mahal distance about 9 km and many of local Transport are available like Tuk Tuk and Taxi to Taj Mahal and other Destination. Another Agra Railway Station is Agra Fort Station and about Distance between Agra Fort Station & Taj Mahal is 5 km.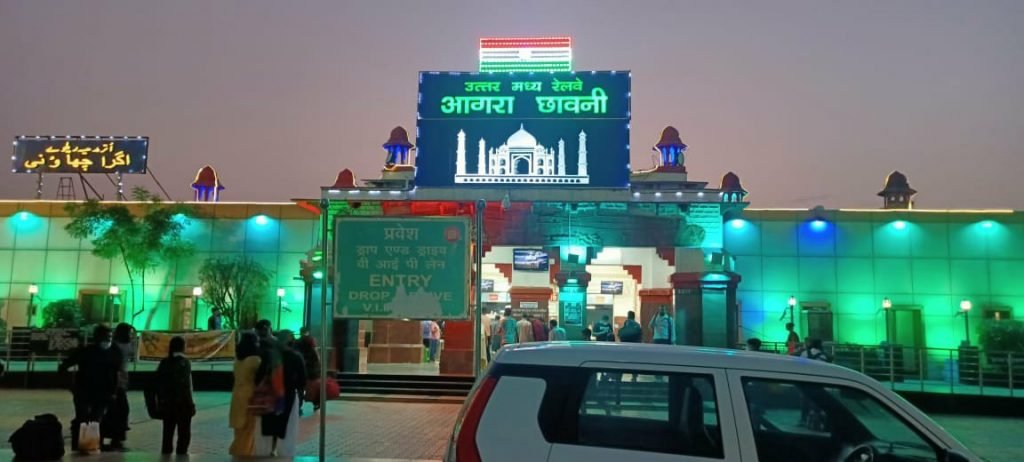 By Road
There are regular bus services from Agra to a number of important cities. The main bus stand of Idgah has a number of buses running for Delhi, Jaipur, Mathura, Fatehpur-Sikri, etc. Distance to Taj Mahal from Idgah Bus Stand is 10 Km and ISBT is a Major Bus Stand in Agra and Distance from ISBT to Taj Mahal is 22 KM. 
"Night viewing at the Taj Mahal, from 8:30 PM to 12:30 AM, is allowed only on five nights in a month"
Local Transportation – How to go Taj Mahal and The Destination in Local Agra.
After reaching the city also, you need some sort of local transport to getting to Taj Mahal. You can easily get taxi, tempo, auto-rickshaw and cycle rickshaw in the city that will take you to your destination Taj Mahal. Prepaid taxis are also available if you want to visit the various places near the city. For the adventurous kind, there are bicycles that can be hired on hourly basis from different parts of the city. Since diesel and petrol vehicle are not permitted in the vicinity of Taj Mahal area, you can find battery-operated buses, horse-driven tongas, rickshaws and other pollution-free vehicles there.
Taj Mahal timings of visiting
The timings of visiting the Taj Mahal are set by the Archaeological Survey of India. The Taj is opened all days of the week except for Fridays, when it is opened in the afternoon only for those who have to attend prayers at the Taj Mosque. The timings are from sunrise to sunset. Tickets are available throughout the day from the western and eastern gate. The tourists can spend any number of hours inside the Taj complex from sunrise to sunset.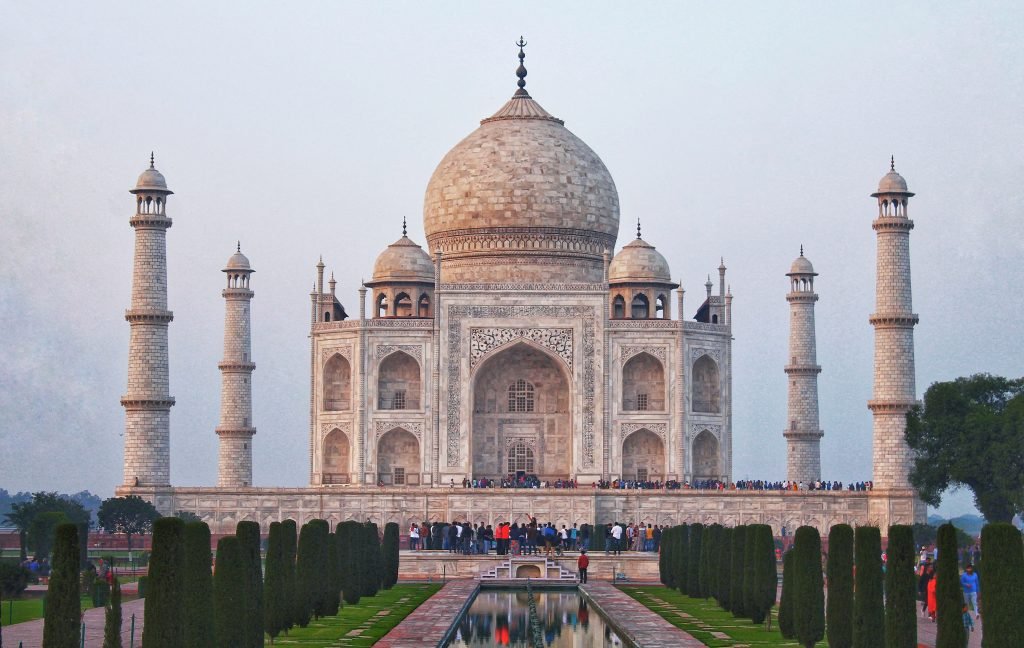 Night viewing at the Taj Mahal, from 8:30 PM to 12:30 AM, is allowed only on five nights in a month: one, on the full moon night, two days before it and two days after it, except for Fridays. However, night viewing is limited to maximum 400 people per night, divided into eight batches of 50 each and each batch is allowed to visit for a maximum duration of 30 minutes. The tickets for night viewing have to be booked one day (24 hours) in advance from the booking counter located in the office of the Archaeological Survey of India, Agra Circle, 22 The Mall, Agra, Uttar Pradesh in between 10:00 AM to 6:00 PM.
How much time required to see Taj Mahal and best time to visit?
The best time to arrive would be just before the sunrise or sunset. Night viewing is allowed on the full moon night, two days before it and two days after it. Tickets for the same need to be booked one day in advance. Mostly people spend 2 to 3 hour to explore Taj Mahal with Taj Mahal Travel Guide. Book Taj Mahal Day tour with Taj Mahal Guide at lowest price.
How to travel from Delhi airport to Taj Mahal? How to get to Taj Mahal by Car or by Bus
You can find many car rental company at airport and get a Taxi to Taj Mahal. Avoid travel by Local Public Transport (Bus).
When visiting India browse through this beautiful list of places to see in India to make your trip a memorable one.
You Also like to read:- Best Time to Visit Taj Mahal
Last Updated KW 19/05/22 – 60.3%
Advertisement