Embark on an unforgettable 2-day tour of the Taj Mahal and Bharatpur's Keoladeo National Park, with a comfortable stay at Atulyaa Taj Agra Hotel.
Bharatpur's Keoladeo National Park 2 day tour of Tajmahal with Stay Hotel Atulyaa Taj and get best deal on Cab Sightseeing. Guests can head to the well-maintained outdoor swimming pool for a refreshing dip. Free WiFi access is available in all areas.
"Experience the Best of Agra's Cultural and Natural Wonders: 2-Day Tour of the Taj Mahal and SOS Wildlife Elephant and Bear Sanctuary with a Comfortable Stay at Atulyaa Taj Agra Hotel."
At Bharatpur Bird Sanctuary birds migrate in huge flocks together, roam together and pose for beautiful photographs together. Rechristened as Keoladeo National Park or Keoladeo Ghana National Park, Bharatpur National Park is a UNESCO-recognized World Heritage located in Bharatpur, Rajasthan. Its proximity to the capital makes it one of the popular weekend getaways from Delhi during autumn and winters.
Advertisement
Private 2-day tour to SOS Wildlife Elephant and Bear Sanctuary, and Taj Mahal from Delhi.
Explore some of India's top attractions in two day.
Stay in Hotel Atulyaa Taj.
Tour the Taj Mahal in Agra in the morning.
Professional private live tour guide in Agra.
Housing more than 366 species of birds, 379 species of plants, and around 30 mammals, the new name of the sanctuary is derived from the temple of Keoladeo, dedicated to Lord Shiva. Bird family in the park includes hundreds of aquatic birds that are natives of Afghanistan, Turkmenistan, China, and Siberia. These birds come to India during winter, and that's what makes Bharatpur Bird Sanctuary an interesting getaway for bird watchers and wildlife photographers.
You Also like to know How many days should you stay in Agra to see all the sights?
Hotel Atulyaa Taj's The air-conditioned rooms feature a flat-screen cable TV and dining area. An electric kettle and a minibar are available. The attached bathrooms are equipped with a shower, hairdryer and free toiletries.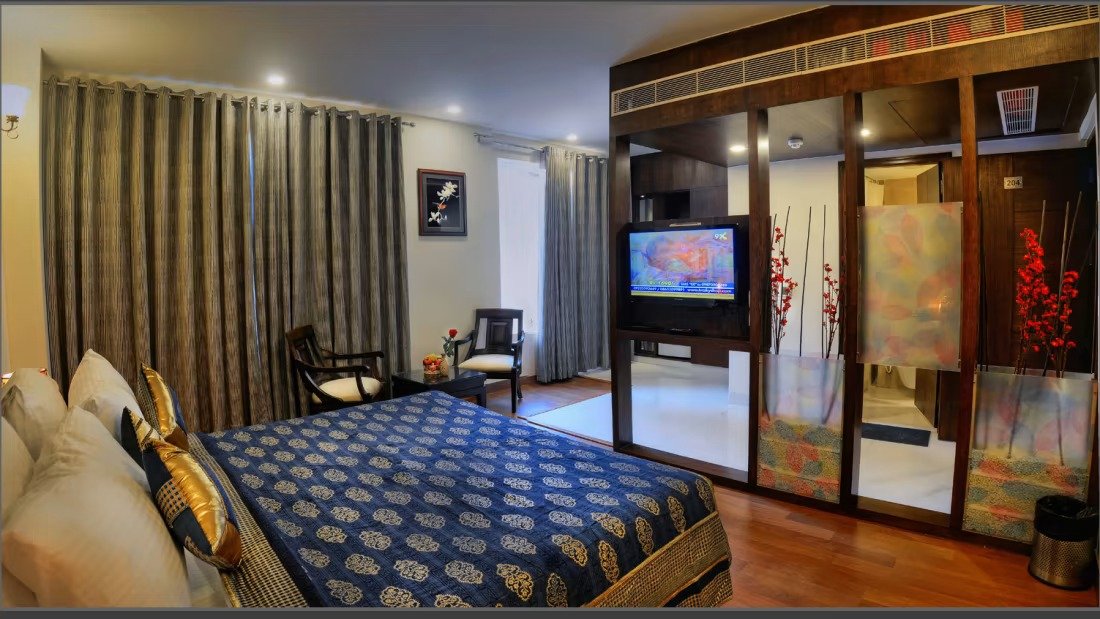 You will be picked up from the Airport/Hotel or anywhere in Delhi NCR / Gurgaon. Our driver will come to pick you up from your location in perfectly Air-conditioned personal Car to enjoy your 3 hours drive to Agra via Yamuna expressway. You can take breaks/rest as per your convenience reaching Agra and transfer to Hotel Atulyaa Taj.
"Experience the Best of Agra and Bharatpur: 2-Day Trip to the Taj Mahal and Keoladeo National Park with a Luxurious Stay at Atulyaa Taj Agra Hotel"
Later proceed from Agra to Bharatpur and explore Keoladeo Ghana National Park by Cycle rickshaw – Formerly known as Bharatpur Bird Sanctuary, Keoladeo Ghana National Park is a home for many species. Habitat with thousands of birds, the park has been declared a protected sanctuary and a UNESCO World Heritage Site.
Visit Fatehpur Sikri, the magnificent fortified ancient city 40 kilometers west of Agra, and the short-lived capital of the Mughal empire between 1572 and 1585, during the reign of Emperor Akbar. Earlier, Akbar had visited the village of Sikri to consult the Sufi Saint Shaikh Salim Chishti, who predicted the birth of a heir to the Mughal throne.
Next Day visit Explore Taj Mahal Your Guide will waiting to welcome you near Taj Mahal, and proceed to seven wonder of the world,Taj Mahal.The Monument hold a grand history of love and affection, it was built by Shah Jahan in the memory of his beloved wife Mumtaz Mahal in the 16th century.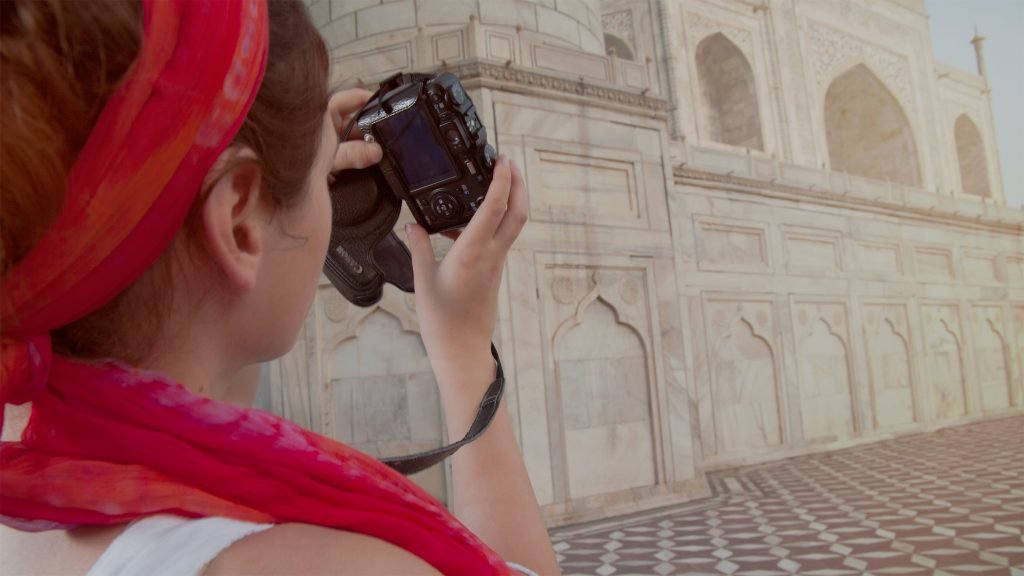 Agra Fort – Tour to Agra Fort is a stunning display of Indian architecture. The majestic red-walled fort is spread out on 94 acres, about two miles away from the Taj Mahal.
"Experience a Memorable and Luxurious Stay in Agra with our Guarantee of Class at Atulyaa Taj Hotel."
Visit "Mehtab Bagh" If you simply don't want to pay the hefty admission fee of Taj Mahal (1,300 rupees for foreigners) or avoid being trampled by the crowds thronging the Taj Mahal. If you also want to enjoy the spectacular views of Taj from a distance then simply take this tour of "Mehtab Bagh"
It's the time to leave for Delhi. There will be a drive of 3.5 hr back to Delhi or anywhere in Delhi NCR, which ends your tour with some unforgettable memories. 08:30 PM 20:30 hr: You will arrive in Delhi and relaxing in your Hotel or Home.
---
Discover the Best of Agra's Historical Treasures: 2-Day Tour of Taj Mahal and Agra Fort with Viator, the Trusted Name in Travel
What are the check-in and check-out times at Hotel Atulyaa Taj?
Check-in at Hotel Atulyaa Taj is from 13:00, and check-out is until 12:00.
Does Hotel Atulyaa Taj have a pool?
Yes, this hotel has a pool. Find out the details about the pool and other facilities on this page.
Does Hotel Atulyaa Taj have a restaurant on site?
Hotel Atulyaa Taj has 2 restaurants:

– COFFEE SHOP – THE PAVILLION
– THE EXOTICA -ROOFTOP GARDEN REASTAURANT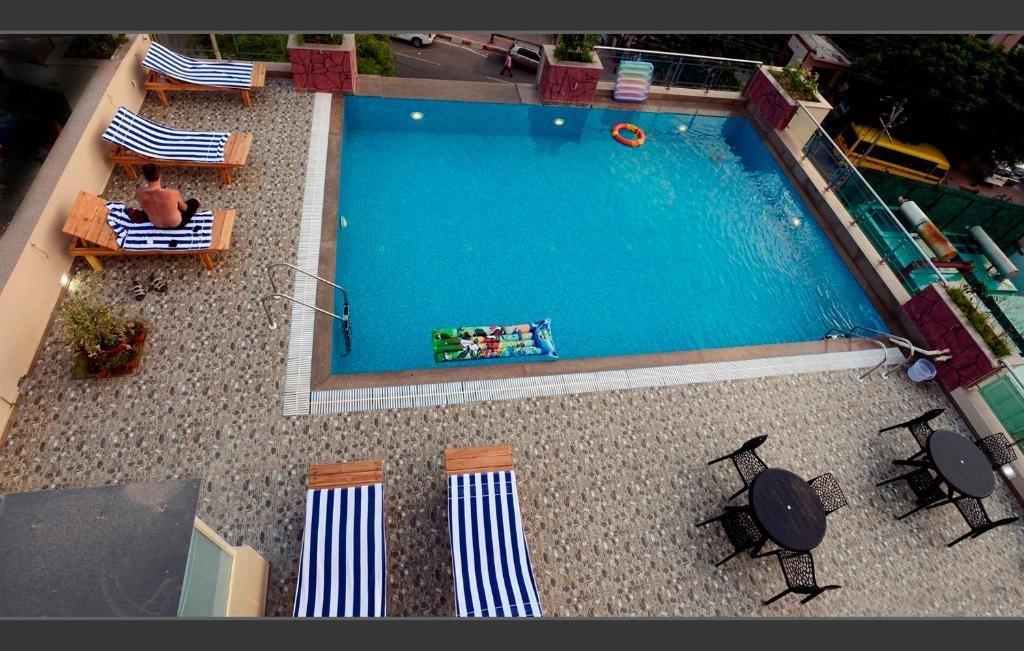 What is there to do at Hotel Atulyaa Taj? 
Hotel Atulyaa Taj offers the following activities / services (charges may apply):
– Indoor pool
– Billiards
– Golf course (within 3 km)
– Indoor pool (all year)
– Water sport facilities on site
How much does it cost to stay at Hotel Atulyaa Taj?
The prices at Hotel Atulyaa Taj may vary depending on your stay (e.g. dates you select, hotel's policy etc.). See the prices by entering your dates.
What type of room can I book at Hotel Atulyaa Taj?
Room options at Hotel Atulyaa Taj include:
– Double
How far is Hotel Atulyaa Taj from the centre of Agra?
Hotel Atulyaa Taj is 3.5 km from the centre of Agra.
Can I park a car at Hotel Atulyaa Taj?
The following parking options are available to guests staying at Hotel Atulyaa Taj (subject to availability):
– Private parking
– Parking
– Free parking
Last Update March 10, 2022
Advertisement