Delhi to Agra Taj Mahal Distance by Road and How far Taj Mahal from Delhi ?
The distance between Delhi & Agra is 230 kilometers from Delhi Airport. So that Taj Mahal Tours from Delhi required at least 12 to 14 hours Delhi to Delhi. Taj Mahal from Delhi Distance from National Highway 2 via Mathura to Agra is 220 km and take more time to get to Agra compared with Yamuna Expressway Road. Delhi airport to Agra Taj Mahal distance is 235 km and travel time between Delhi Indira Gandhi International Airport around 3 hours.
Find Best Deals on Car Rental
"delhi to taj mahal distance by Road is 230 km and Travel Time from Delhi to Agra by Road is 2:40 hrs"
The various mode of transport between Delhi to Agra and How far is the Taj Mahal from New Delhi?
Delhi to Agra Transport mode are by road, by train or by flight. Traveler can choose any mode of transport from Delhi to Agra on basis of fastest, cheapest or recommended mode as given by Alamgir Taj Mahal Guide. Delhi to Agra Taj Mahal Distance by yamuna Expressway 220 km and NH-2 road 200 km. Delhi Railway Station to Taj Mahal Distance is 190 km and The fastest Train Gatimaan take 90 min to reach Agra Cantt Railway Station. Agra Railway Station to Taj Mahal distance is 9 km and 10 minute drive to Taj Mahal Eastern parking.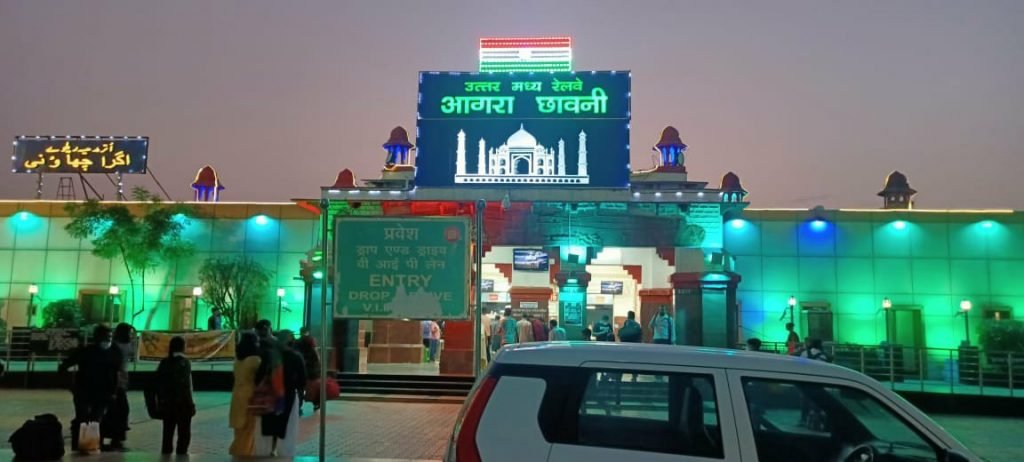 The closest train station to Taj is named Agra Fort Railway Station, 3KM to Taj Mahal. There is no immediate train to Delhi. You can take the train to Delhi from Agra Cantt Railway Station. All trains to New Delhi are withdrawn at Agra Cantonment railway station, the railway station is 9KM from Taj. There are more than six railway stations in Agra but only two of them are frequently used: Agra Cantt Station and Agra Fort Railway Station.
"The coldest month in Agra is January, with an average high-temperature of 22.2°C (72°F) and an average low-temperature of 9.4°C (48.9°F)."
Agra Airport (proposed to rename as Pandit Deen Dayal Upadhyay Airport) (IATA: AGR, ICAO: VIAG) is a military airbase and public airport serving the city of Agra, in the state of Uttar Pradesh, India.
The station was opened during World War II as Royal Air Forces Station Agra and had a number of flying units located there. It was closed after the war and transferred to the Royal Indian Air Force.
Which is the best time to visit Agra?
October to March: The best time to visit Agra Taj Mahal is between harvest time and winter as at this point the hotness has ebbed and the climate is charming and ideal for touring. Spend an afternoon at the Taj complex ambling through the grounds and enjoying the beauty of this magnificent monument The Taj Mahal.
Although many visitors arrive from Delhi on a day-trip, Agra offers two to three days worth of sightseeing.
Sunrise is by far the best time to visit the Taj Mahal. Not just because the early morning light turns the dome of the temple a soft, golden color, but because this is the time when there are the least amount of tourists and if you get in early enough, you might even get some perfect portraits with no people in them. Delhi to Taj Mahal Agra distance by car is only 220 KM and reach Agra in just 3 Hours. 
Also Like to know more:- Agra Taj Mahal Ticket Price
What are the popular places to visit in Agra destination? – Agra, home to one of the seven wonders of the world 'The Taj Mahal,' attracts approximately 240 million tourists every year. The main role for each visit to Agra is the designing miracle 'Taj Mahal,' but besides it, there are various attraction and monuments to visit in Agra.
Taj Mahal isn't only a Monument; it is an 'image of affection.' Commissioned in 1632, it is known for its breathtaking creativity and is the best Attraction in Agra to visit. Mughal Emperor Shahjahan constructed it in memory of his adored spouse, Mumtaj Mahal also known as Arjumand Banu Begum. It required very nearly 22 years and 20000 Skilled Craftsmen to finish its construction. Agra to Delhi km around 200 and one can do same day Taj Mahal Tour by car.
The entrancing catacomb houses the burial place of Emperor Shahjahan and his significant other, Mumtaj Mahal. It is the ideal illustration of fine craftsmanship with Indian, Persian, and Islamic styles of design.
You Also like this tour on Viator: – 5-Day Golden Triangle Tour from Delhi
Agra Taj Mahal Transfer from Delhi
Last Update – KW 18/05/22